Local Ski Doo Regional Manager Has 22 Years In The Business
By Scott A. Sumner
www.slednews.com
      When you get about 40 cm of snow in an entire season it's not good for the snowmobile business, but Ski Doo regional manager Dan Oitzel keeps the faith. We had an unusual winter. The last two years were good winters and things were coming back but this winter has devastated the industry  in Ontario and Quebec. Manitoba westward was fantastic snow wise but my market area  from the Manitoba border to Timmins in the east all experienced low snow, notes Dan Oitzl. When there is snow people will find a way to go riding.  Ski Doo dealers are not in bad shape. I'm biased but is a reality. All it takes is some snow. I've been in the business for 22 years now representing Ski Doo.  There have been a lot of changes in the industry. It is a wonderful industry as the people who participate are passionate and probably the most
demanding to satisfy because of their passion. There is nothing like  going snowmobiling with a bunch of customers. I've had the pleasure of  riding with customers recently and it is a great experience. I would  never have envisioned the sled of today when I first started so many
years ago.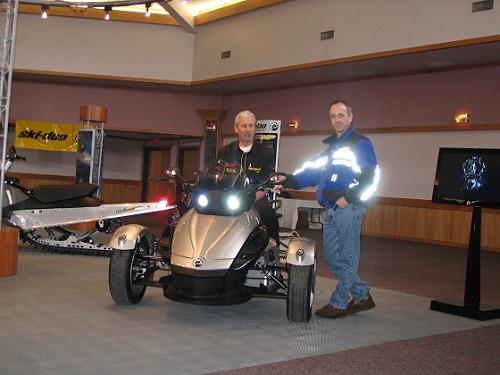 Oitzl was in town to assist local dealer Gordon's Trailer Sales in  the introduction of the 2008 models to the local market. Ski Doo is the  only manufacturer left to bring their new models on tour to Thunder Bay to let customers see what 2008 will offer. This year was exciting because the canadian manufacturer based in Valcourt, Quebec designed the first snowmobile entirely on computer.  The end result was weight  loss but the Ski doo has been redesigned from the ground up. If you  look at it you could see it is a redesigned sled. We at Bombardier
don't want to stand still. Snow or no snow, the idea is we are going to have some snow somewhere so lets go have some fun. We have been gaining market share in North America with the REV chassis but the way we see it,  everyone has been playing catch up since 2003 but now  we are introducing a new chassis, smiles Oitzl. As a Canadian company the focus is product change. You can't rest on your laurels  but must look  forward. The consumer is demanding and we will give them something fresh and new. Our 600 cc liquid cooled sled is 399 pounds, we broke the barrier of 400 pounds. That's incredible as we shed on average
about 50 pounds each model. The weight has been taken off the entire sled piece by piece by piece. Until you actually ride these sleds,  which is why we have had as many people as possible actually riding them, you don't realize the difference it makes.  Weight is a factor in
everything as far as rider fatigue, gas mileage, the wear on the engine and drive train handling.  It effects everything.
  We are lighter than everyone else by a lot.  All the parts are  different. It is not a REV  but  is a completely redesigned snowmobile. It is the first snowmobile designed strictly on the computer and after it was physically built loaded with sensors. Then the sensors  were
read to see the weak points. You can build anything on a computer but  does it really work? Ski Doo then remodified the sled.  In shedding all  that weight the chassis is now 37 % stronger than the  previous REV  chassis, noted Oitzl.   You put the virtual world and the real world
together and there are components you don't need. We have taken out 106  parts out of the steering mechanism alone. Weve given 8 inches more leg room, taken the secondary and put it up above the primarily and  taken the brake off the chain case and moved it  right on the
driveshaft.  Everything makes more sense  and is simpler and less prone  to problems.
    In the  WPSA Pro Open class Blair Morgan ran the new chassis and won Valcourt and Lake Geneva. We are in the business to stay in the business not to play games in the business. They started developing this chassis the year they developed the REV so are forward thinking.
The next generation sled is coming for you and Ski Doo are working on it right now. You can't design something in a year or two years and come up with something that will work. Most of our design engineers are  in Valcourt with some in Sherbrooke and we even have a ergonomics  specialist in who lives in Thunder Bay and works for Bombardier,  smiles Oitzl. I have two of the new sleds. We've got about 4000KMs on  the sleds in three weeks. Yesterday we were out with 10 customers here in Thunder Bay.  We went up Spruce River Road about 30 KMS and took the Monday Lake Road to Dog Lake Resort.  It was a little rough but better
than nothing. The response from people has been consistent. The two biggest comments are the legroom as we have given them 8  more inches different  ways but the reality is when you shed 50 pounds off a vehicle your body  weight makes that much more difference. Body english on a 400 pound sled versus 500  pound sled makes a big difference. The front
suspension is phenomenal.